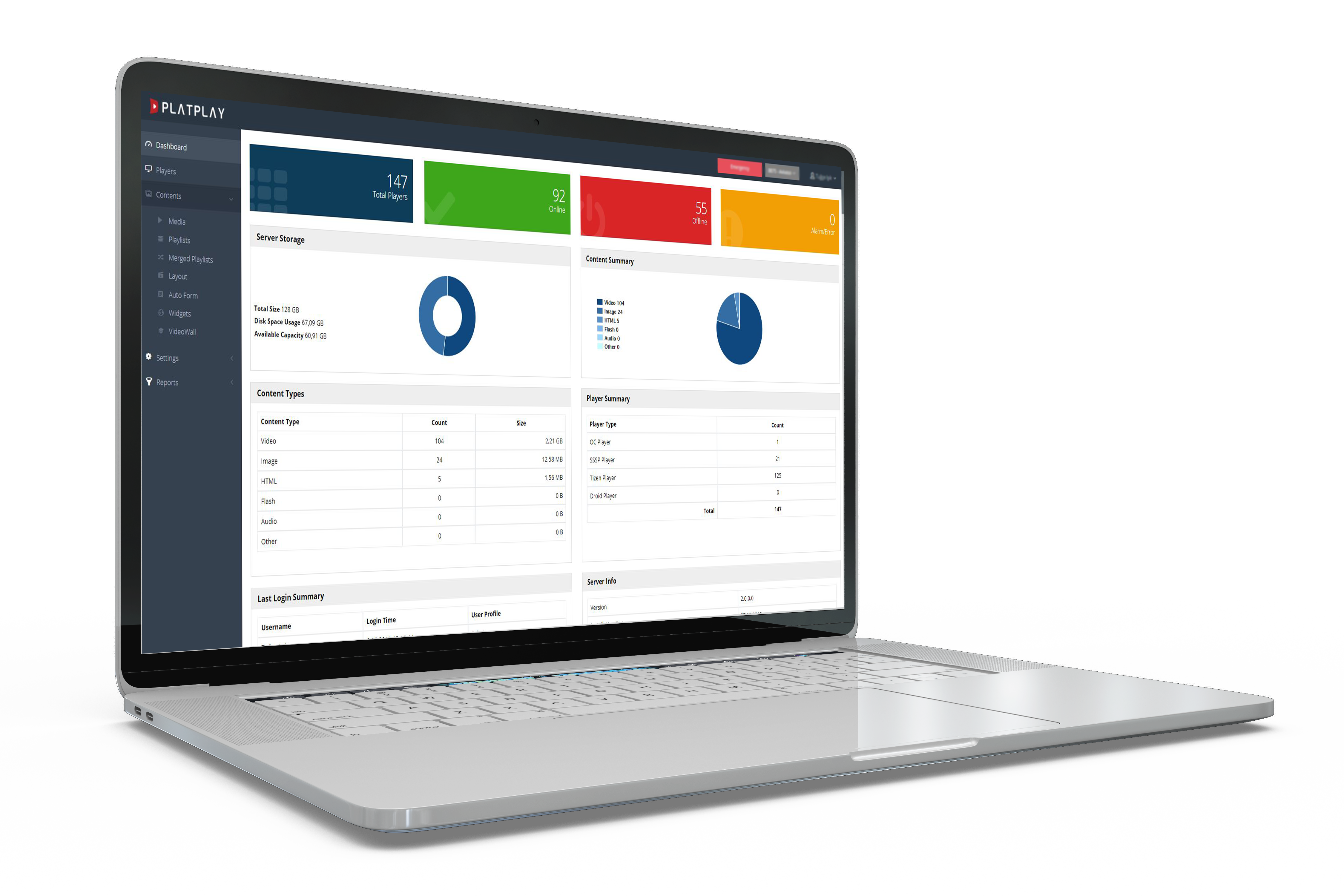 PlatPlay DS is an easy to use digital signage software solution which enables you to turn all your digital signage screens into targeted communication channel. It takes few minutes to transform your imagination to realization.
Organize your pictures and videos in your private media library, create your own playlists easily, schedule your content and upload to the system and monitor the status of your displays and control them from wherever you are online.
Make a difference with PlatPlay DS
Platform Independent Software
Easy to Use, Manage and Monitor
Central Remote Management
Be independent with PlatPlay



Platform Independent Software
PlatPlay DS gives you a variety of choices in your decision of brands and platforms to be used in your digital signage system. Even if you start with one brand and platform, you can continue to grow your digital signage system with different choices with PlatPlay DS solution. Any type of display in your hand can be utilized also for this aim.
Emergency Layout
PlatPlay DS offers you a convenience for unpredictable situations. In such cases which comes up suddenly and which you have to take a quick action, this feature helps you. The first thing you have to do is to define such possible scenarios for your company and prepare their lay out and pair with each screen. Once the scenario comes alive, you can put them into use on all screens with just one click.
Group and Tag
PlatPlay DS offers a simple way to intercalate a new content for certain screens for certain timing without touching the current playlist flow. Tagging the new content and the screens will help you to continue with your current playlist. You do not need to deal with additional playlists with this feature.
Media and Widget Support
PlatPlay DS offers you a variaty of widgets from its library like time, day, wheather, fiannacial services and traffic widgets. In case you want to create your own widgets, you are limitless with Html, css, and javascript for your customed design widgets.
Number of Countries It Operates
Some of Our Global References
When they are happy, we are happy